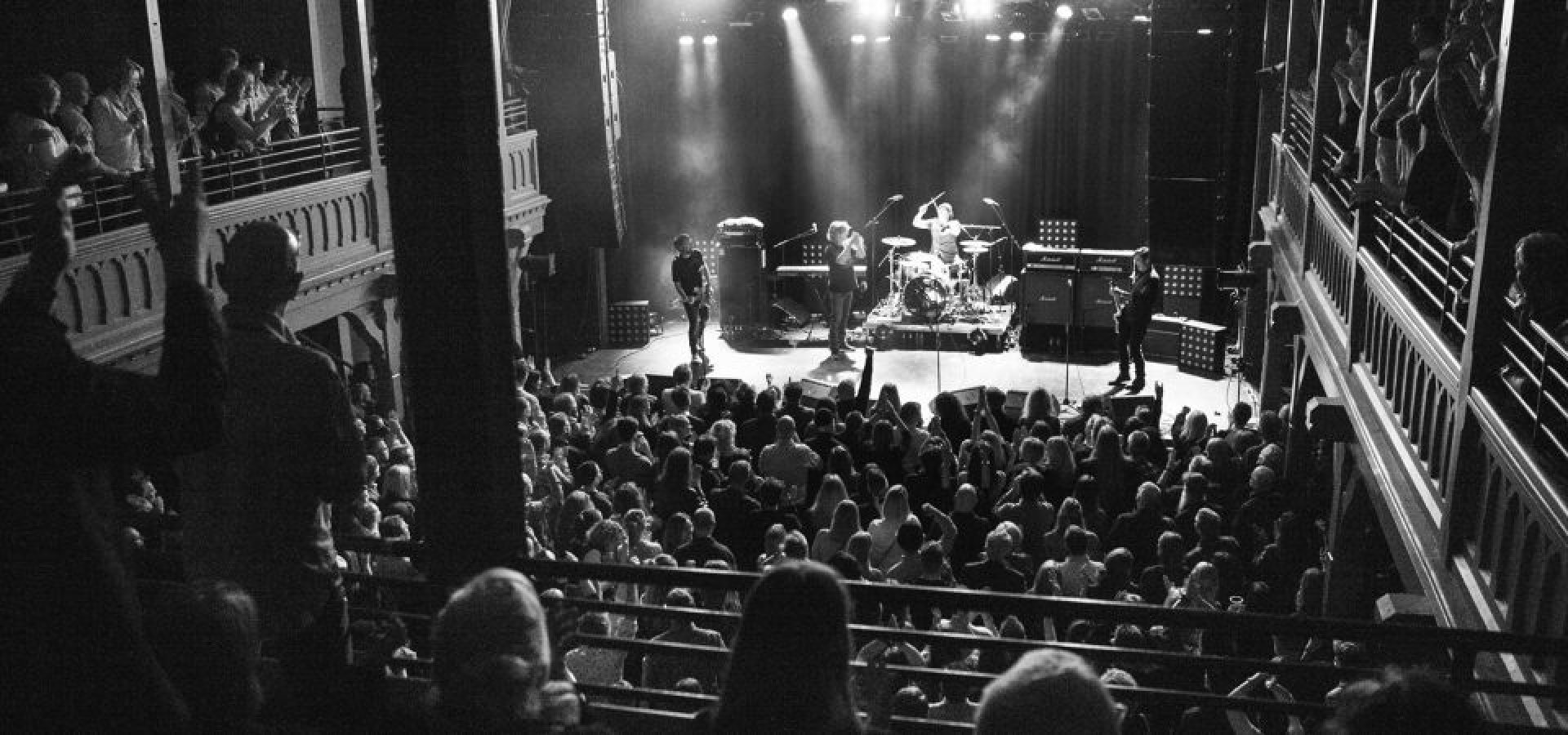 Byscenen
Kongens gate 19
7012 Trondheim
Norway
One of Trondheim's largest concert venues.
Entrance from street level, stairs or elevator up to the concert hall on the 2nd floor.
Trondheim's main hall for concerts and events, Byscenen, is a house with a lot of history, be it both culture and community involvement. Previously, Byscenen was known as Arbeiderforeningen and was established at its current address as early as 1878.
In the opening year, Ole Bull honored the Labor Association with two sold-out concerts, which was his last visit ever in Trondheim. In 1882, Bjørnstjerne Bjørnson stood on the workers' association's rostrum in the ballroom and gave a lecture on America's economic and social conditions in front of a record-breaking assembly of more than 1,500 people.
Arbeiderforening has since housed bazaars, boxing matches, dance school, theater productions, community meetings and not least concerts.
Byscenen as we know the premises today was completed in the spring of 2010, after a long period of modernization and rehabilitation, on the initiative of Sparebank 1 SMN kulturstiftelse.
Byscenen is now a state-of-the-art stage with every conceivable facility. We arrange large and small concerts all year round, but also other genres such as stand-up and live podcasts, as well as events such as Kosmorama's Kanonprisutdeling, Adresseavisens Ut-Awards, NTNU's Forskning Grand Prix, election meetings, various corporate kickoffs, launches and parties. Together with restaurant Alma's and the cellar pub Boxer, we offer a holistic cultural meeting place right in the heart of Trondheim.
AGE LIMIT
Most concerts that are arranged at Byscenen have either an 18- or 20-year age limit. This is stated at the relevant concert on the website, Facebook and on the ticket sales page. If you want to bring someone under 18, we have our own guardianship scheme. See information further down about it.
WARDROBE
We always have an open cloakroom at the entrance during concerts, which is serviced at most concerts. You can pay both by card and cash here.
COMPANION
We accept escort certificates at Byscenen. If you want to bring a companion, you buy your own companion ticket in advance if it is available - if not, this can be arranged at the entrance. Bring identification and accompanying certificate, and show this at the entrance. At sold-out concerts, we recommend arriving early, so that you avoid queues and at the same time can get a good seat.
SEATS
At a standing concert, there are seating options in the gallery when it is open. There is a limited number of places here. These seats are unnumbered and can not be reserved, so arrive early. The first-come, first-served principle applies! At a sitting concert, it is also first come, first served. It is stated at each event whether sitting / standing / whether the gallery is open.
AVAILABILITY
The city stage has a lift right inside the entrance and separate HC toilets. Unfortunately, we do not have the opportunity to reserve a place, but if a good place is desired, we recommend that you arrive as early as possible. Then one of the guards at the door can help you find a good place.
EAR PLUGS
We sell earplugs in our bars at Byscnen during each concert.
Capacity: 750
Age limit 18 years.