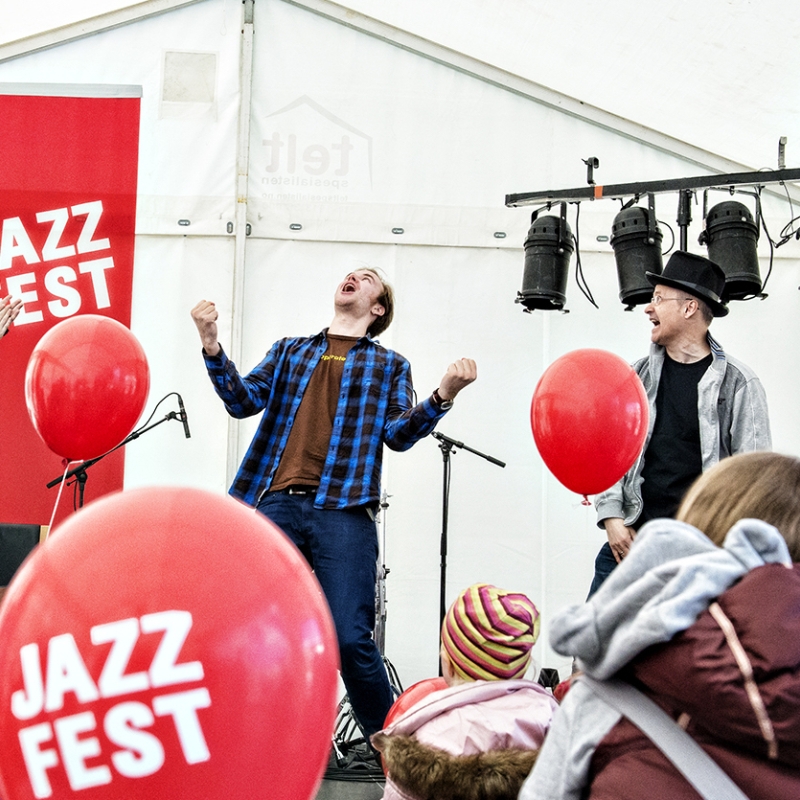 This is an archived event from the following edition:
May 14th
12:00 pm
- 4:00 pm
Family day at Torvet
Free concerts and much more!
Jazzfest invites to an eventful family day on Torvet with a number of concerts and activities both on and around the stage!
Program:
12:00 TKs Funk-Storband
12:30 Sirkus Agio
12:45 Strindens Promenade Orchester
13:00 Young talents from ISAK
13:30 Sirkus Agio
13:45 Strindens Promenade Orchester
14:00 Araba
14:45 Kid's Disco with Rabalderdans
15:15 Nadia Essah
 
The event is free.
Trondheim Kulturskoles Funk-Storband
Trondheim Kulturskoles Funk-Storband consists of a total of 27 young musicians aged 15 - 19 years. With a background from both Kulturskolen, Lørdagsskolen, high schools and upper secondary schools in the Trondheim area, they come together in a youthful interaction. There is a lot of energy and joy at the band's concerts, with songs such as Staying Alive, Miss Madison and Part-Time Lover.
Jack Enters - conductor and instructor
Sirkus Agio

Circus Agio presents Kristian: an avid juggler who began his juggling career when he was ten years old. Since then, he has had over 250 shows and offered smiles and laughter for both children and adults of all ages. There will be juggling with balls, cones and rings, as well as other entertainment and music - and if you are extra lucky, you can join the stage!
Kristian Urdalen - juggler and circus artist
Strindens Promenade Orchester

Strindens Promenade Orchester has its origins in the Studentersamfundet, and plays primarily dixieland jazz, but also music in almost all genres. They are a traditional student orchestra - with a career of over 50 years - and today the ensemble has 14 playing members. With their striped uniforms, they are a welcome and well-known part of the jazz city of Trondheim, which spreads joy and entertains both young and old!
Young talents from ISAK

The cultural center ISAK presents young, creative talents from their artist program! In the course of half an hour, music will be performed in various genres, and the whole thing will be led by a lecturer from ISAK's own ranks.
Araba

ARABA plays traditional West African music, with driving rhythms and explosive energy that is guaranteed to make you dance. The band consists of two talented vocalists from Nigeria, in addition to a percussionist from Ghana - in collaboration with four musicians from the jazz community in Trondheim. 
Olaolu Lawal - vocals, Josephine Svendsen - vocals, Nii Amarh Tokuanin - percussion, Amund Totland - guitar, Benjamín Gísli Einarsson - keys, Julian Haugland Bjorå - electric bass, Udi Shlomo - drums
Kid's Disco with Rabalderdans

Rabalderdans offers an outdoor children's disco in Jazzfest style! Children and adults get the opportunity to shake, twist, jump and bounce to well-known jazz-inspired songs.
The dance is led by Ingeborg Dugstad Sanders
Nadia Essah

The young artist, producer and songwriter Nadia Essah tells her life story through groovy and soulful RnB. Her music offers bold lyrics and melodies over sloppy beats, with inspiration from both pop, hip-hop and jazz. Nadia started her career already as a 13-year-old, and after many years of exploring genres and styles, Nadia has now found her own style: expressive, honest and raw.
Nadia Essah - vocals, Sindre Sauarlia - keys, Eskil Løkstad Hansen - guitar, Aksel Ytreberg - bass, Henrik Dullum - drums