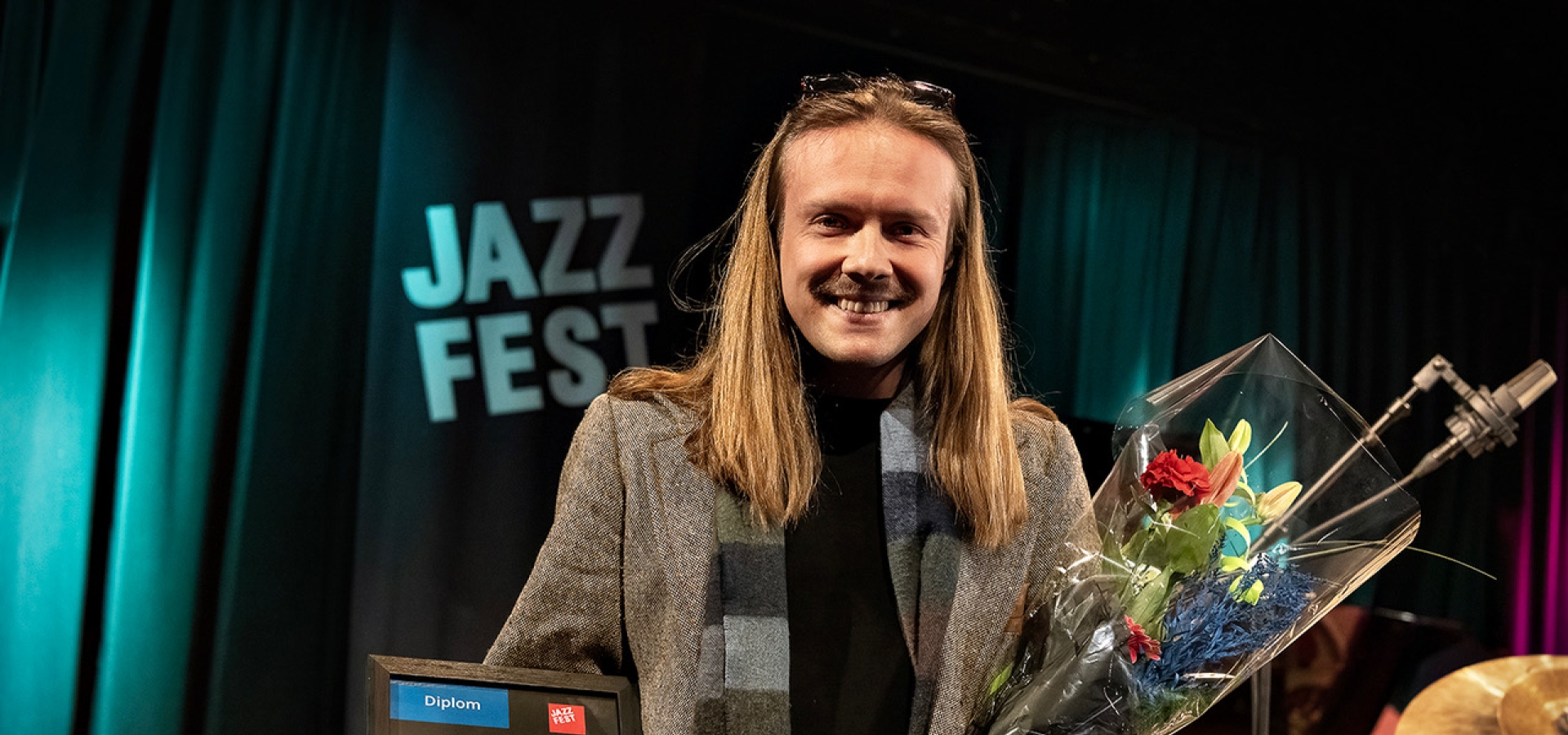 Petter Dalane has been appointed NTNU Ambassador 2023
On behalf of NTNU and Jazzfest, vice dean for education, Marit Reitan, appointed jazz pianist and orchestra leader Petter Dalane to the honorary title NTNU Ambassador 2023, at Dokkhuset on Wednesday afternoon.
The appointment took place ahead of the first concert at this year's Jazzfest, Erling Aksdal & NTNU Jazz Ensemble. The new NTNU Ambassador, who is number 16 in the row, receives, in addition to flowers and a diploma, a stipend of NOK 50,000 to be used for the touring and/or promotion.
The jury's reasoning, NTNU Ambassador 2023
This year's NTNU Ambassador is a pianist and orchestra leader from Bergen. Between 2014 and 2022 he was a student at NTNU where he studied marine engineering, musicology and performing jazz. He took his Bachelor's in 2020 and Master's in 2022 and is currently a teacher at the Department of Music. This year's NTNU Ambassador is very active in Trondheim's jazz scene and has created his own concert series. He is environment-creating, proactive and inclusive - and has a rare will to stand his ground. He is the leader of several ensembles, and his concerts are seasoned with both humor and political content, which helps to develop the concert format.
There is no doubt that this year's candidate is worthy of the title, and it is a great pleasure for the jury to appoint Petter Dalane as NTNU Ambassador 2023.
Happy and surprised NTNU Ambassador
- I can see from the list of NTNU Ambassadors that I am in very good company and it is pleasant and surprising to be part of this! The prize money comes in very handy and will make it possible for me to complete projects that I have long had plans for, says the happy newly appointed ambassador, Petter Dalane.
Petter was born in 1994 and is originally from Bergen. He enjoys being part of the jazz scene in Trondheim.
- The jazz environment here is large enough that it is always possible to make new musical acquaintances, but small enough that everyone knows everyone, across age and subgenre. The combination of a number of resident musicians at an international level and a steady influx of young, enthusiastic students to Jazzlinja at the Department of Music at NTNU, makes this an environment that is fun and stimulating to be part of. Like good music, the jazz environment in Trondheim is characterized more by collaboration than by competition. This applies not only between musicians, but also between Jazzlinja, Jazzfest, Trondheim Jazzforum and Midtnorsk Jazzsenter, and a municipality that is good at supporting culture and between venues such as Dokkhuset, Lokal Bar and Antikvariatet.
What is good about Jazzlinja?
- The student environment and the freedom you get as a student to follow and develop your own taste, and that deep and thorough ear-based music learning trumps superficial theory learning which is easier to measure. I hope that in the coming years Jazzlinja will be able to retain its uniqueness and remain an oasis without grade requirements and syllabus in the huge NTNU system.

Can you tell us a bit about the various projects you are involved in?
- The band I have spent the most time with in recent years is the Cosmic Swing Orchestra, a Sun Ra-inspired jazz ensemble dedicated to opening people's minds to a non-commercial and anti-capitalist way of life. I took the initiative to start this band in 2018 and since then it has grown to become a collectively run project.
We were recently on tour under the auspices of Midtnorsk Jazzsenter and within a year we will release our second album, a live recording from this tour. In the new year, a quintet recording with my compositions will also be released, which, like the Cosmic record, will be released on Fjordgata Records, a label started by former Jazzlinja students with whom I have a good collaboration.
Since 2017 I have run the concert series Petters Jazzjam and in August it will be the 50th edition of this at Lokal Scene.
In addition to these projects, Petter Dalane is looking forward to continuing to work with the trio with Anders Hjemmen and Bjørn André Syverinsen, the duo with singer Johanna Reine-Nilsen, Øyvind Mathisen's band Get Your Goat and, not least, a newly started rock band that takes him back to the musical roots as a Kiss fan.
What is an NTNU Ambassador?
The ambassador scheme is a collaboration between NTNU and the Trondheim Jazz Festival. Each year, an artist or band is appointed who can act in an outstanding way as an ambassador for the university and the jazz community in Trondheim. Particular emphasis is placed on the artist's level of activity, musical CV, tour plans, artistic level, number of bands, and international activities. The ambassador(s) will receive a stipend of NOK 50,000 which will be used for the tournament and/or promotion. Trondheim Jazz Festival administers the ambassador scheme in collaboration with NTNU. The ambassador is appointed by a jury in which NTNU, Trondheim Jazz Festival and performing independent jazz musicians are represented.
Jury for NTNU Ambassador 2023
Hildegunn Øiseth, musician and composer, associate professor at the Grieg Academy, University of Bergen.
Sissel Vera Pettersen, singer, musician, composer and artistic director of Trondheim Voices and Soddjazz.
Ernst Wiggo Sandbakk, general manager, Trondheim Jazz Festival
Karl Asmund Rognøy Olsson, Department of Communications, NTNU