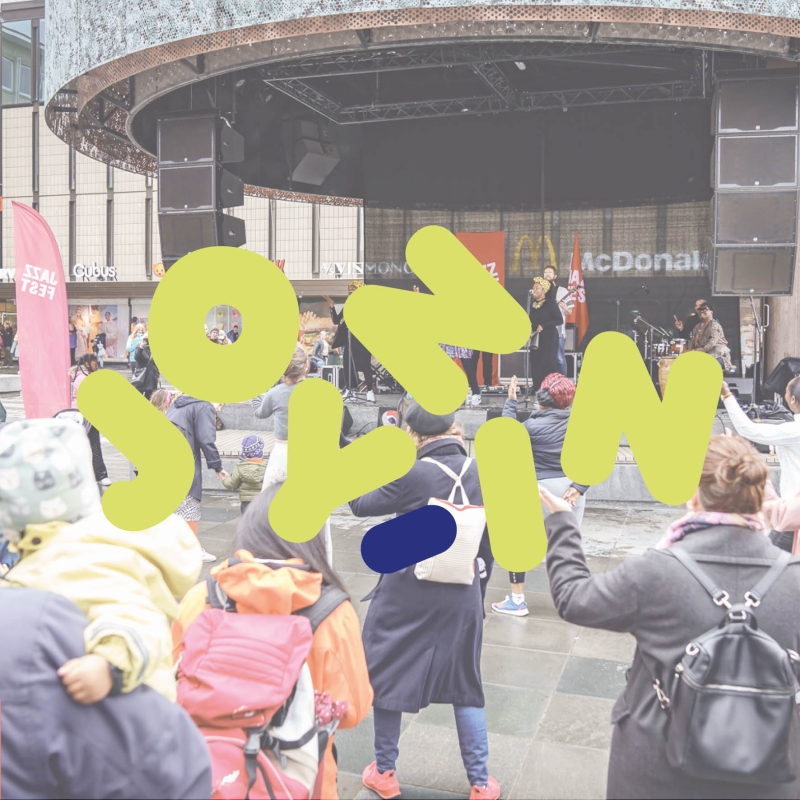 This is an archived event from the following edition:
May 13th
12:00 pm
- 4:00 pm
Joyn-In: Family Day at Torvet
Lots of music, entertainment and activities for the whole family
Street parade: The Brazz Brothers with Lade school's music band and Strindheim school band
Trondheims biggest street parade!
At Torvet on 13 May, The Brazz Brothers will bring together a new generation of jazz musicians. 100 band musicians aged 8 to 18 from Lade school's music band and Strindheim school band will perform with a street parade and outdoor concert together with The Brazz Brothers. This will be a great party with joy, madness and improvisation!
Trondheim Kulturskoles Funk-Storband
Trondheim Kulturskoles Funk-Storband consists of a total of 27 young musicians aged 15 - 19 years. With a background from both Kulturskolen, Lørdagsskolen, high schools and upper secondary schools in the Trondheim area, they come together in a youthful interaction. There is a lot of energy and joy at the band's concerts, with songs such as Staying Alive, Miss Madison and Part-Time Lover.
Jack Enters - conductor and instructor
Superspreder
Danceable joy spreader!
Superspreder is an irresistible and contagious force that makes the whole body move. The music is danceable and groovy with elements of both jazz and pop. The lyrics are humorous and crazy, with a youthful look at the society around us.
When Superspreder starts up the joy spreader machinery it is impossible to stand still!
Miriam Namtero Kibakaya - vocals (NO)
Mona Krogstad - tenor sax (NO)
Amalie Dahl - alto and baritone sax (DK)
Guro Kvåle - trombone (NO)
Oliver Skou-Due - keys (DK)
Oda Kristine Steinkopf - bass (NO)
August Glännestrand - drums (SE)
The Flying Seagulls
They have traveled the world to spread laughter and joy among those who need it most. Now The Flying Seagulls are coming back to Trondheim!
Flying Seagulls Norway is a humanitarian organization that works for children's right to play, laugh and be happy. They visit children in vulnerable situations and through performances, music, circus, magic and games they work to create moments where children can be children.
The international organization has met 300,000 children in the last 14 years, and since 2015 they have focused on helping refugee children. In Norway, they visit schools, kindergartens, institutions, asylum centres, festivals and neighbourhoods, and their aim is to spread joy and laughter to those who need it most.
The Flying Seagulls brings with them all their energy, joy and playfulness, and promise it won't be boring
Band from ISAK
Kultursenteret ISAK is bubbling with young creative energy.
We are lucky to be visited by young artists the Cultural Center ISAK. Which bands we will hear this day remains a secret for now, but we are looking forward to hearing young talents with a buzzing joy of playing.