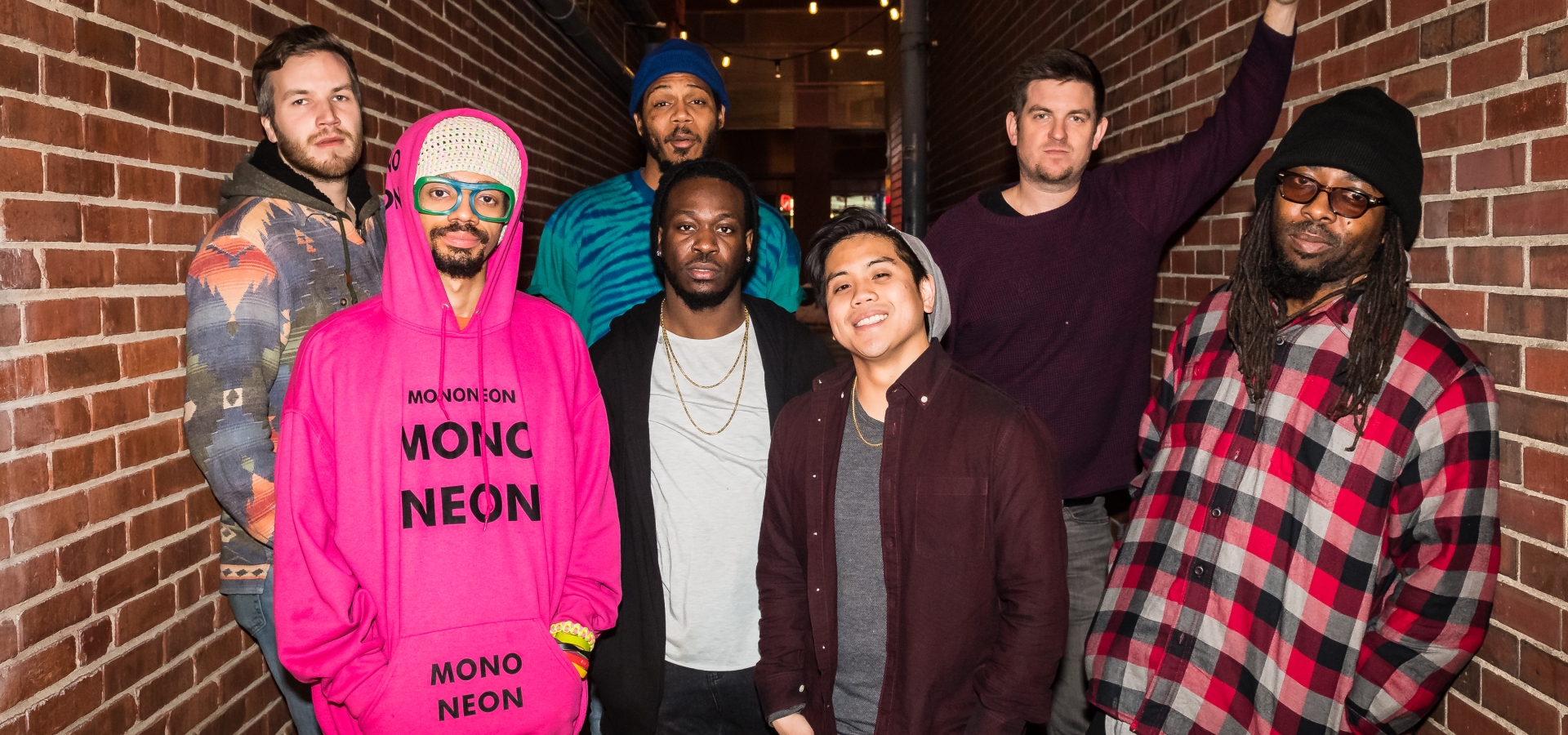 JAZZFEST AT SAMFUNDET MAY 14TH
Tickets
Ghost-Note, Kjellerbandet with Tor Haugerud, S. Møller & Reggie Got Beats, KALLE, O-Janà and more!
On 13 and 14 May, Samfundet is filled with a genuine festival atmosphere and the hippest of new, young music!
Some of the artists on Satyrday May 14:
Ghost-Note
From Snarky Puppy to Samfundet!
Led by Snarky Puppy's multi-Grammy-winning drummer Robert Sput Searight, Ghost-Note offers a real sound explosion live!
With an impressive line-up, consisting of musicians known from collaborations with Prince, Snoop Dogg, Erykah Badu, Herbie Hancock, Kendrick Lamar and Justin Timberlake, this band pushes the boundaries of future funk music - with clear references to greats such as James Brown and Sly & The Family Stone, mixed with both afrobeats, hip-hop and psychedelia.
Robert Sput Searight - drums, Devin Way - drums, percussion, Dywane "MonoNeon" Thomas - bass guitar, Dominique Xavier Taplin - keyboards, Peter Knudsen - guitar, Sylvester Onyejiaka - baritone saxophone, tenor saxophone, flute, Jonathan Mones - alto saxophone, flute
S. Møller Storband med Reggie Got Beats
Beats & Big Band - back by popular demand!
S. Møller Storband repeats the Beats & Big Band success and invites to a danceable end to Saturday's program at Samfundet. Beats & Big Band was performed for the first time in the autumn of 2017 and presents the big band format in a new and exciting way. By combining S. Møller's repertoire with production and DJing from Reggie Got Beats, they bring out the best from several musical worlds. It will be a hefty and varied concert with catchy rhythms and heavy beats - as much a party as a concert!
Kjellerbandet med Tor Haugerud
Space is the Place - a tribute to Sun Ra!
Kjellerbandet takes the leap into the cosmic world, and with Tor Haugerud at the helm, they will navigate through music from Sun Ra's huge catalog!
Kjellerbandet has for many years been one of the most active big bands in Trondheim and has housed hundreds of young musical talents from the city's student community. Their spiritual leader for the occasion is Tor Haugerud - known for his imaginative and creative power in improvised music. With a background in theater and performance acting, it is always exciting to see what happens when Haugerud enters the stage. This time with an entire big band in his artistic command.
Musical playfulness, improvisation, flamboyant costumes and tones from Outer Space - this will be a show to remember!
KALLE
Karl Hjalmar Nyberg's KALLE is disguised on the outside as a jazz band, but breaks out of the well-known jazz tradition! With musicians known from bands such as Megalodon Collective, Pom Poko, Skrap, Mall Girl and more, the musical quality and characteristic sound are already in place - and the sound universe of KALLE is influenced accordingly.
The music is described as a mixture of modern jazz and energetic indie rock, where catchy riffs and inventive pop with quirky beats and strange soundscapes flow into each other. With KALLEs music, you can both listen and dance!
Karl Hjalmar Nyberg - saxophone, synth, Martin Miguel - guitar, Heida Mobeck - tuba, electronics, Veslemøy Narvesen - drums
O-Janà
O-Janà is one of the most exciting new bands on the European jazz scene! The Italian duo, consisting of Ludovica Manzo and Alessandra Bossa, is bubbling over with spontaneity, musical curiosity and sonic experimentation. The result is a very playful expression that moves from electronics to free music.
The duo is always looking for clear structures where sounds and soundscapes are constantly changing. The music can develop in the direction of heavy beats or tagged rhythms, suggestive and hypnotic with playful melodies.
Alessandra Bossa - piano, synth and electronics
Ludovica Manzo - vocals and live sampling
Doors open at 18:30
Age limit 18 years.
Hear all these and more on one ticket!
The ticket is valid Saturday May 14.