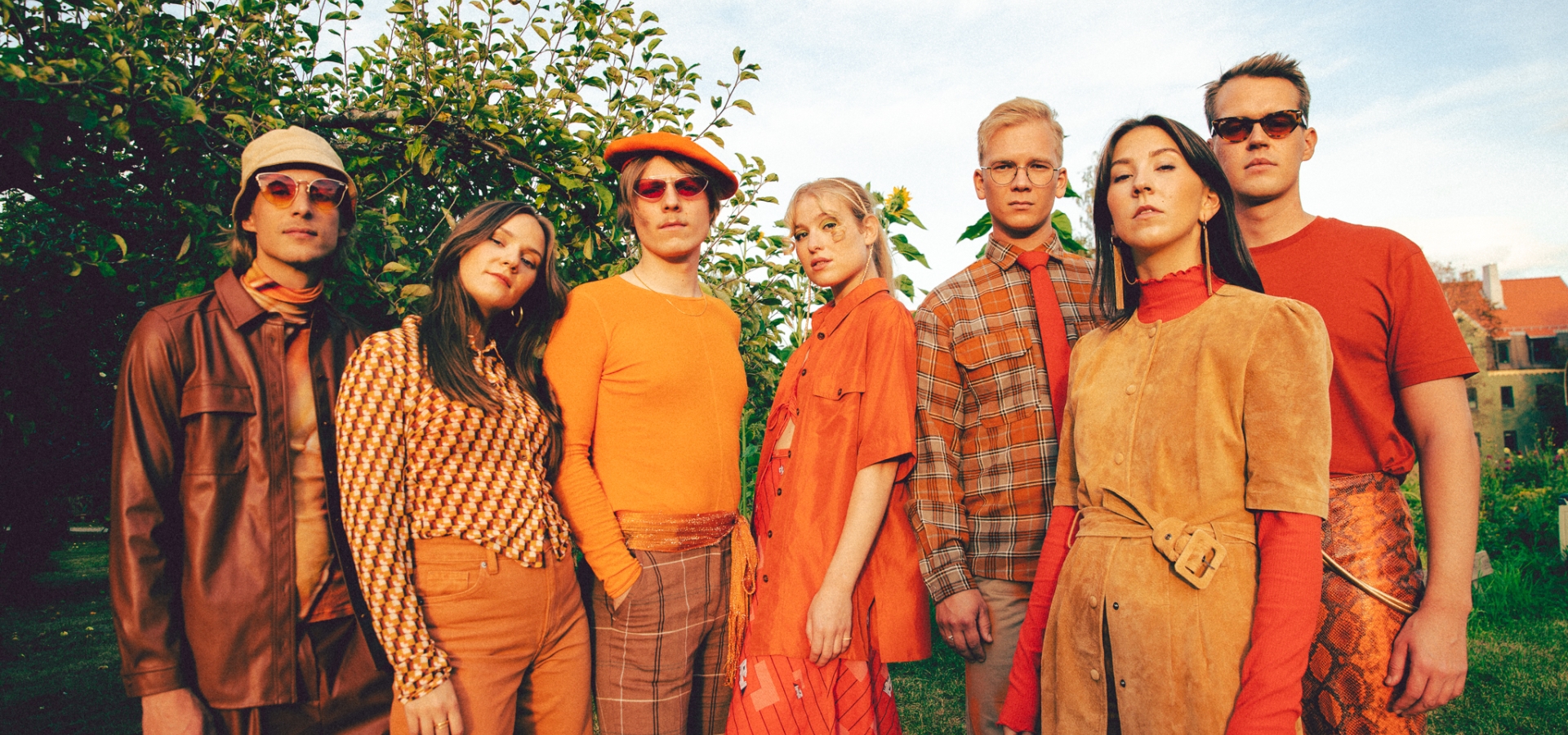 JAZZFEST AT SAMFUNDET MAY 13th
Tickets
Fieh, RebMoe, Koma Saxo, Cosmic Swing Orchestra and other artists!
Friday the 13th and Saturday the 14th of May we will fill the red round house with top music and a genuine festival atmosphere!
Read more about the artists who play on Friday 13 May.
Fieh
Finally they come to Trondheim! Fieh is releasing the brand new album In The Sun In The Rain this spring and will pay Trondheim a visit on their extensive record release tour.
The band had their breakthrough with the single "Glu" in 2017, which quickly created great international attention. Extensive touring took them to stages all over Europe.
This powerful ensemble consists of a group of friends who have played together for a long time and perfected their sound. Welcome to an ecstatic concert!
Sofie Tollefsbøl - vocals, Thea Arnesdotter - vocals, Solveig Wang - vocals, keys, woodwind, Ola Øverby - drums, Andreas Rukan - bass, Kai von der Lippe - keys, Jørgen Kasbo - guitar, Lyder Øvreaas Røed - trumpet
RebMoe
RebMoe came from nowhere when she appeared on the Grammy-nominated artist Coucheron's "Honky Donk". The release created buzz in the blogosphere, and the song reached millions of streams! After lying low for a little over a year, RebMoe returned with a bang; The master's student at Cambridge University was behind one of the most played songs on P3 in 2018.
With a completely unique vocal style, RebMoe quickly became a favorite in the EDM community, and we are very much looking forward to presenting the upcoming superstar at Jazzfest!
Rebecca Sophia Moe - vocals, Oscar «Nacho» Mella Tobar - bass, Bård Berg - drums, Eirik Grove - guitar, Govram Daneshvar - DJ
Koma Saxo
Koma Saxo is a quintet led by the Swedish bassist and producer Petter Eldh. The band consists of five big names on the modern European jazz scene, including Eldh on bass, Christian Lillinger on drums and three saxes in front: Otis Sandsjö, Jonas Kullhammar and Mikko Innanen. It's hard to avoid the supergroup designation when we read these names in the same sentence - this hard-working band breaks boundaries and pursues their completely unique musical vision.
Petter Eldh - bass, Christian Lillinger - drums, Otis Sandsjö - sax, Mikko Innanen - sax, Jonas Kullhammar - sax
Cosmic Swing Orchestra
Cosmic Swing Orchestra draws inspiration from Sun Ra, Duke Ellington, Charles Mingus, Thelonious Monk and Trondheim Jazz Orchestra. The orchestra conveys a strong political message where the vision is to open the audience's brains to a non-commercial and anti-capitalist attitude to life. Cosmic does this with the help of lyrics about capitalism, over-consumption, climate change and pollution in combination with fluctuating jazz and humor - in other words in the spirit of Sun Ras. Join a musical intergalactic star storm with the new generation of NTNU jazzers!
Sara Fjeldvær - vocals, Petter Dalane - piano, Alexander Riris - bass, Bjørn André Syverinsen - drums, Aksel Rønning - alto saxophone, flute, Erlend Vangen Kongtorp - tenor and soprano saxophone, Zakarias Meyer Øverli - tenor saxophone, Jenny Frøysa - baritone saxophone, Øyvind Mathisen - trumpet, Ola Lømo Ellingsen - trumpet, Even Brodwall - horn, Jørgen Bjelkerud - trombone
Hear all these artists and more on the same ticket!
The ticket is valid on Friday 13 May.